Wag's Pet Grooming of Jacksonville, FL signed on with the OPTIMA™ Premium Presence and Reputation Management Program on January 2, 2020. One year later, their online presence is better than ever and business is booming.
Read below to hear about how Wag's Pet Grooming turned their online presence around with the help of AMP and how you can too!
Before signing on with OPTIMA™, when Googling "Wag's Pet Grooming Jacksonville, FL", an entirely different business in a different city showed up as the main search result. As a business owner, this is worst-case scenario. Not only is your listing not showing up correctly, but business is being driven directly to your competitor!
As exemplified by the photos below, once Wag's Pet Grooming signed on with OPTIMA™, we immediately got to work on professionally claiming, verifying, and enhancing their online listing.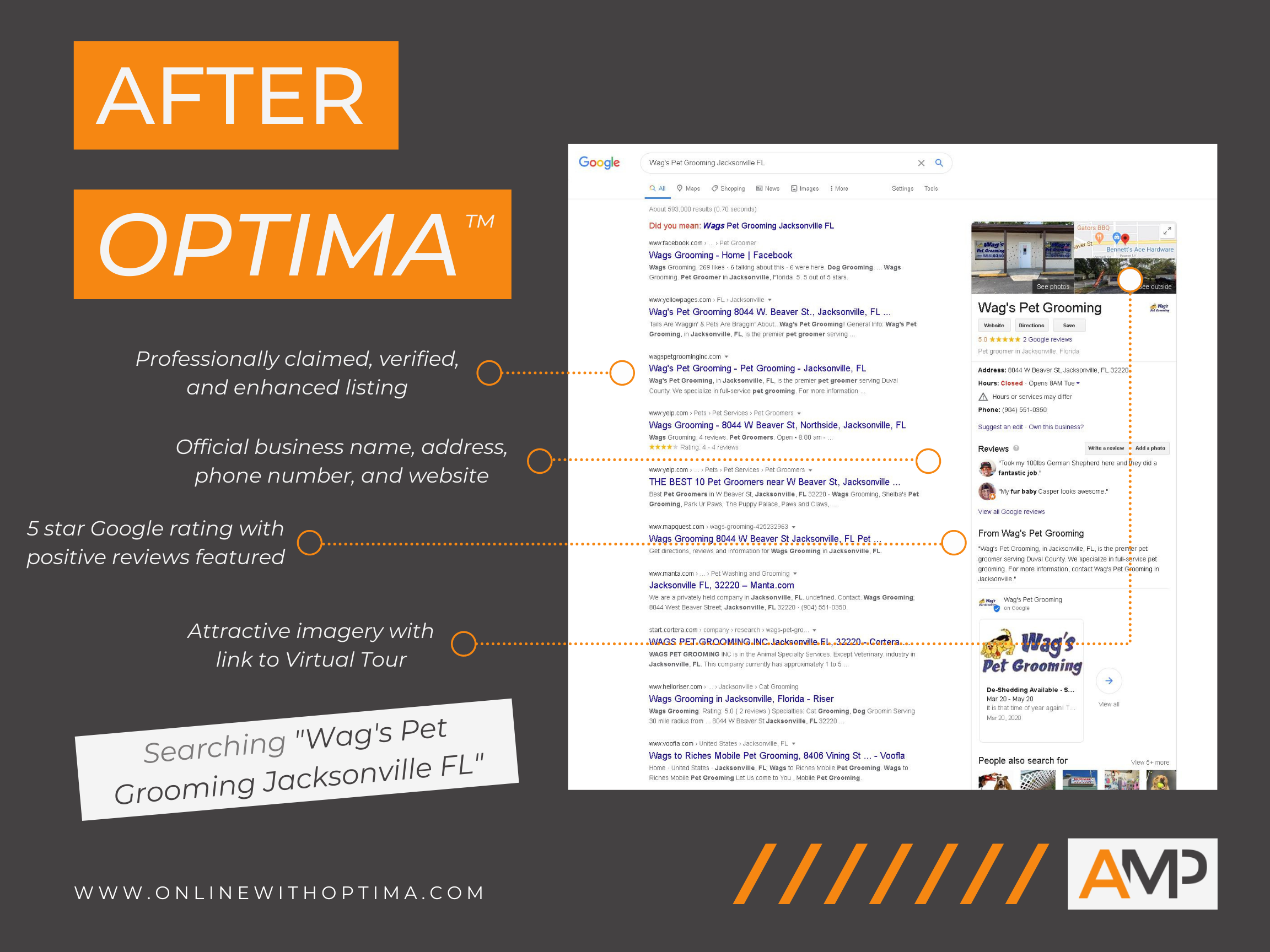 Wag's Pet Grooming jumped from 0 to 5 stars with 27 new Google reviews. Their Google listing has been clicked 176 times for directions and 712 times for calls. 712 customers called Wag's from their Google listing in 2020 alone! In addition to these already impressive stats, Wag's Pet Grooming has captured 6 new leads with OPTIMA's™ Lead Capture Technology and has had 915 views to their OPTIMA™ provided Testimonial Site where reviews, relevant business information, and much more are available for customers to find online.
Wag's Pet Grooming is going into 2021 with a higher Google star rating, more reviews under their belt, and a strong team behind them with AMP.
The best thing that you can do for your business is sign up NOW and see where you could be going into 2022.